Immediate and delayed effect of Ramadan fasting on spirometry parameters
Effects of fasting on lung volumes and capacities
Keywords:
Fasting, FEV1, FVC, MVV, PEFR, Pulmonary function tests, Ramadan, Spirometry
Abstract
Fasting in the month of Ramadan is an obligatory duty for muslims. Researchers have investigated health benefits of fasting and reported conflicting results. The purpose of this study was to determine the immediate and delayed effects of Ramadan fasting on spirometric parameters. 50 apparently healthy young adults aged between 17-27 years, belonging to both genders who fast during the month of Ramadan were enrolled for the study. Spirometric recordings were done at three different time points. First: 5-10 days before the start of Ramadan (Pre-Ramadan); second: within 10 days of the beginning of Ramadan fasting (Ramadan); third: within 7 days of the end of Ramadan (Post-Ramadan). There were no statistically significant differences between the three phases with respect to tidal volume (TV), inspiratory reserve volume (IRV), expiratory reserve volume (ERV), forced vital capacity (FVC), forced expiratory volume in 1 sec (FEV1), FEV1/FVC, peak expiratory flow rate (PEFR) and forced expiratory flow 25% to 75% (FEF25-27). To conclude, Ramadan fasting does not have any significant effect on pulmonary function tests as assessed by spirometry. Hence, the diagnosis and prognosis of a respiratory disorder made on spirometry findings are reliable and need no error correction if an individual is fasting.
Downloads
Download data is not yet available.
References


Leiper JB, Molla AM, Molla AM. Effects on health of fluid restriction during fasting in Ramadan. Eur J Clin Nutr. 2003 Dec; 57 Suppl 2:S30-8. [Pubmed] [Crossref]


Lahdimawan A, Handono K, Indra MR, Prawiro SR. Effect of Ramadan fasting on the ability of serum, PBMC and macrophages from healthy subjects to kill M. tuberculosis. IOSR Journal of Pharmacy and Biological Sciences (IOSR-JPBS) 2014; 9(1):24-9. [Crossref]


Roy AS, Bandyopadhyay A. Ramadan intermittent fasting on selective fitness profile parameters in young untrained Muslim men. BMJ Open Sport Exerc Med 2015 Sep 30; 1(1):e000020. [Pubmed] [Crossref]


Abdel-aziz EA, Ibraheem AS. Fasting during Ramadan: does it alter pulmonary functions in healthy males? Al-Azhar Assiut Med J. 2008 Sep; 6(3):52-63.


Siddiqui QA, Sabir S, Subhan MM. The effect of Ramadan fasting on spirometry in healthy subjects. Respirology. 2005 Sep; 10(4):525-8. [Pubmed] [Crossref]


Latiri I, Sandid S, Fennani MA, Hadrich M, Masmoudi T, Maatoug C, Zammit-Chatti M, Chamari K, Ben Saad H. The effects of ramadan fasting on the spirometric data of healthy adult males. Am J Mens Health. 2017 Jul; 11(4):1214-23. [Pubmed] [Crossref]


Duncan MT, Husain R, Raman A, Cheah SH, Ch'ng SL. Ventilatory function in Malay Muslims during normal activity and the Ramadan fast. Singapore Med J. 1990 Dec; 31(6):543-7. [Pubmed]


Subhan MM, Siddiqui QA, Khan MN, Sabir S. Does Ramadan fasting affect expiratory flow rates in healthy subjects? Saudi Med J. 2006 Nov; 27(11):1656-60. [Pubmed]


Moosavi SA, Kabir A, Moghimi A, Chehrei A, Rad MB. Evaluation of the effect of Islamic fasting on lung volumes and capacities in the healthy persons. Saudi Med J. 2007 Nov; 28(11):1666-70. [Pubmed]


Bener A, Colakoglu B, Mobayed H, El Hakeem A, Al Mulla AA, Sabbah A. Does hospitalization for asthma and allergic diseases occur more frequently in Ramadan fasting: a population based study (2000-2004). Eur Ann Allergy Clin Immunol. 2006 Apr; 38(4):109-12. [Pubmed]


Adeli SH, Aghaali M, Nasab JM. Studying the effects of fasting during Ramadan on pulmonary function test and asthma severity. Health, Spirituality and Medical Ethics. 2015 Spring; 2(1):2-5.


Amini M, Attaran D, Norouzy SA, Karimirad R, Baygi ZS, Mohajeri MR, Mohajeri SA, Nematy M. Effects of Ramadan fasting on spirometric values and clinical symptoms in asthmatic patients. J Fasting Health. 2013; 1(1):23‐7.


Askari VR, Alavinezhad A, Boskabady MH. The impact of "Ramadan fasting period" on total and differential white blood cells, haematological indices, inflammatory biomarker, respiratory symptoms and pulmonary function tests of healthy and asthmatic patients. Allergol Immunopathol (Madr). 2016 Jul-Aug; 44(4):359-67. [Pubmed] [Crossref]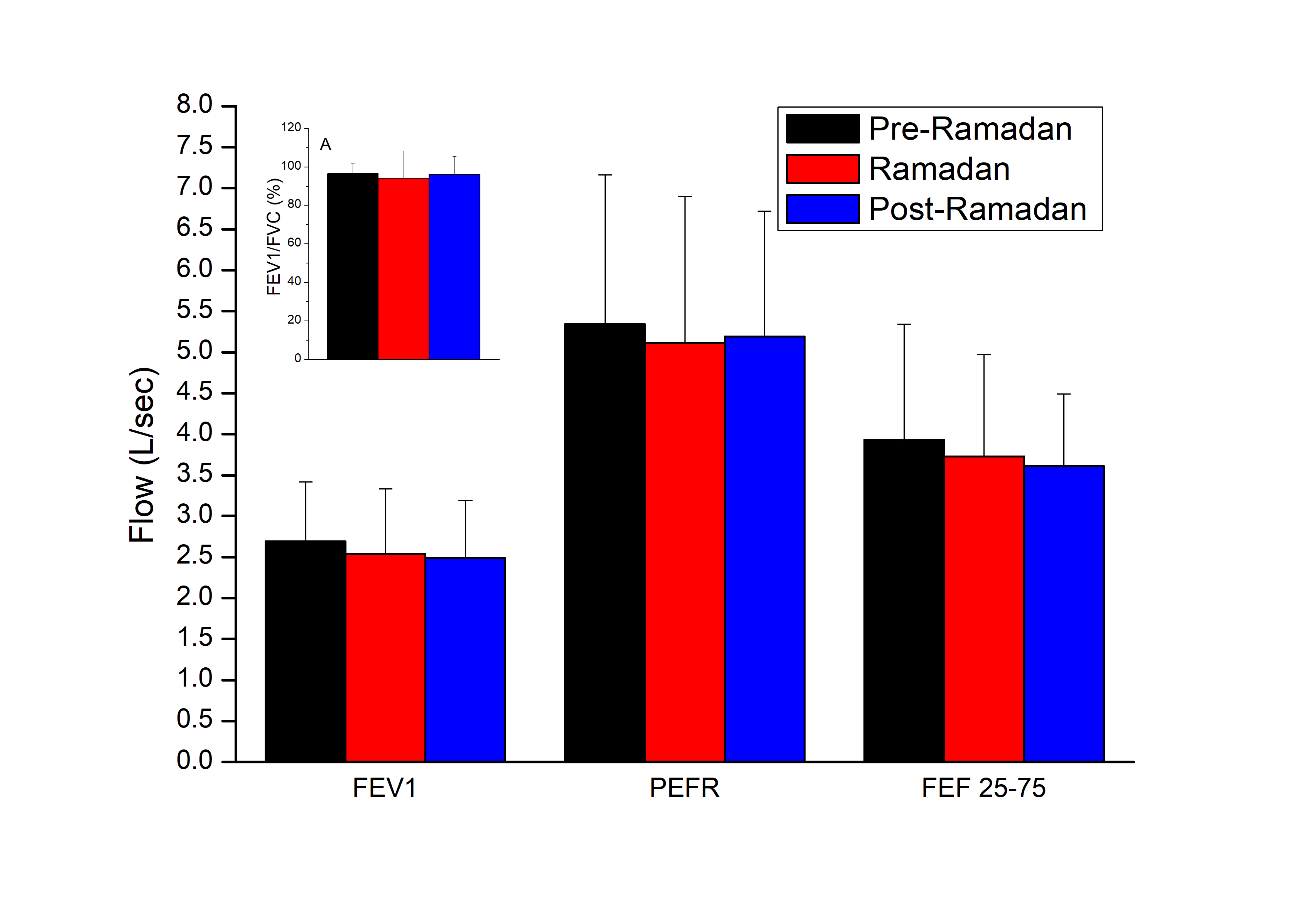 How to Cite
1.
Sayeed A, Hazari M, Arifuddin M. Immediate and delayed effect of Ramadan fasting on spirometry parameters. Annals of Medical Physiology [Internet]. 31Mar.2018 [cited 14Jul.2020];2(1):7-0. Available from: http://amphysiol.com/index.php/amp/article/view/v2i1.279619
Section
Original Research Articles
This work is licensed under a Creative Commons Attribution 4.0 International License.
The authors warrants and represents that the submitted MANUSCRIPT is an original work and has not been published before in any form, and that it does not infringe upon any copyright or other right(s), that it does not contain infringing, libelous, obscene or other unlawful matter, that he/she is the sole and exclusive owner of the rights here-in conveyed to the Publisher, and that he/she has obtained the customary permission from the copyright owner or his legal representative whenever a text/passage from copyrighted material is quoted or a table or illustration from such material is used. The Author(s) will indemnify the Publisher for, and hold the Publisher harmless from any loss, expense or damage occasioned by any claim or suit by a third party for copyright infringement or arising out of any breach of the foregoing warranties as a result of publication of the Article. The Article shall be delivered to the Publisher free of copyright charges. In the event that the Article is not accepted and published by Publisher, this agreement becomes null and void.
Plum X metrics
Article level metrics are shown here