Prevalence of anemia in geriatric population of Kashmir: A hospital based study
Anemia: an unrecognized sign in geriatric patients
Nazia Hilal

University of Kashmir

Azher Mushtaq

Government Medical College Srinagar
Keywords:
Anemia, Gastrointestinal malignancies, Geriatric patients, Kashmir, Normocytic normochromic
Abstract
Anemia is a common concern in geriatric age group in developing countries. The purpose of this study was to identify the common causes and types of anemia in elderly patients in educationally backward region with limited access to quality health care. This was an observational study was done in Shri Maharaja Hari Singh (SMHS) Hospital of Government Medical College Srinagar, over a period of two years. 2000 patients above 60 years of age attending the outpatient clinic were screened for anemia based on WHO criteria. A random and non-consecutive selection of 100 anemic patients was done to study the morphological type and cause of anemia. 1160 (58%) patients were males and 840 (42%) were females.  Total 812 out of 840 (96.67%) females and 738 out of 1160 (63.62%) males were found to be anemic. Maximum numbers of anemic patients were found in the age group 60-69 years. Mean age was 74.5 years. All the types of anemia based on peripheral smear were evident, normocytic being the commonest constituting 77.5%, followed by microcytic hypochromic 11.1%, macrocytic 7.05% and dimorphic 4.35%. 21% were lost to follow up and almost one fourth of the patients (24%) needed further evaluation before labelling them as having anemia due to old age. The common causes of anemia noted were gastrointestinal malignancy (31%), renal insufficiency (15%) and tuberculosis (9%). The inability to evaluate anemia in elderly individuals can lead to delay in the diagnosis of treatable as well as threatening disease conditions.
Downloads
Download data is not yet available.
References


World Health Organization. Definition of an older or elderly person. Available at http://www.who.int/healthinfo/survey/ageingdefnolder/en/index.html [Last accessed August 29, 2010]


Ferrucci L, Semba RD, Guralnik JM, Ershler WB, Bandinelli S, Patel KV, Sun K, Woodman RC, Andrews NC, Cotter RJ, Ganz T, Nemeth E, Longo DL. Proinflammatory state, hepcidin and anemia in older persons. Blood. 2010 May 6; 115(18):3810-6. [Pubmed] [Crossref]


Bhasin A, Rao MY. Characteristics of anemia in elderly: a hospital based study in South India. Indian J Haematol Blood Transfus. 2011 Mar; 27(1): 26-32. [Pubmed] [Crossref]


Chaves PH, Ashar B, Guralnik JM, Fried LP. Looking at the relationship between hemoglobin concentration and prevalent mobility difficulty in older women. Should the criteria currently used to define anemia in older people be reevaluated? J Am Geriatr Soc. 2002 Jul; 50(7):1527-64. [Pubmed] [Crossref]


Beattie WS, Karkouti K, Wijeysundera DN, Tait G. Risk associated with preoperative anemia in noncardiac surgery: a single-center cohort study. Anesthesiology. 2009 Mar; 110(3):574-81. [Pubmed] [Crossref]


Lucca U, Tettamanti M, Mosconi P, Apolone G, Gandini F, Nobili A, Tallone MV, Detoma P, Giacomin A, Clerico M, Tempia P, Guala A, Fasolo G, Riva E. Association of mild anemia with cognitive, functional, mood and quality of life outcomes in the elderly: the "Health and Anemia" study. PloS One. 2008 Apr 2; 3(4):e1920. [Pubmed] [Crossref]


Riva E, Tettamanti M, Mosconi P, Apolone G, Gandini F, Nobili A, Tallone MV, Detoma P, Giacomin A, Clerico M, Tempia P, Guala A, Fasolo G, Lucca U. Association of mild anemia with hospitalization and mortality in the elderly: the Health and Anemia population-based study. Haematologica. 2009 Jan; 94(1):22-8. [Pubmed] [Crossref]


Robinson B. Cost of anemia in the elderly. J Am Geriatr Soc. 2003 Mar; 51(3 suppl):S14-7. [Pubmed] [Crossref]


Ershler WB, Chen K, Reyes EB, Dubois R. Economic burden of patients with anemia in selected diseases. Value Health. 2005 Nov-Dec; 8(6):629-38. [Pubmed] [Crossref]


World Health Organization. Nutritional anaemias. Report of a WHO scientific group. WHO Technical Report Series No 405. World Health Organ Tech Rep Ser. 1968; 405:5-37. [Pubmed]


Mehta BC. Iron deficiency anemia. In: Shah SN (ed). API Textbook of Medicine, 7th ed. Association of Physicians of India, Mumbai, pp.930-4, 2003.


Beutler E, Waalen J. The definition of anemia: what is the lower limit of normal of the blood hemoglobin concentration? Blood. 2006 Mar; 107(5):1747-50. [Pubmed] [Crossref]


Chaves PH, Xue QL, Guralnik JM, Ferrucci L, Volpato S, Fried LP. What constitutes normal hemoglobin concentration in community-dwelling disabled older women? J Am Geriatr Soc. 2004 Nov; 52(11):1811-6. [Pubmed] [Crossref]


Chernetsky A, Sofer O, Rafael C, Ben-Israel J. Prevalence and etiology of anemia in an institutionalized geriartic Harefuah 2002 Jul; 141(7):591-4. [Article in Hebrew] [Pubmed]


Guralnik JM, Eisenstaedt RS, Ferrucci L, Klein HG, Woodman RC. Prevalence of anemia in persons65 years and older in the United States: evidence for a high rate of unexplained anemia. Blood. 2004 Oct 15; 104(8):2263-8. [Pubmed] [Crossref]


Nissenson AR, Goodnough LT, Dubois RW. Anemia: not just an innocent by stander? Arch Intern Med 2003 Jun 23; 163(12):1400-4. [Pubmed] [Crossref]


Kim HS, Lee BK. Cross-sectional study on the prevalence of anemia among rural elderly in Asan. Nutr Res Pract 2008 Spring; 2(1):8-12. [Pubmed] [Crossref]


Choi CW, Lee J, Park KH, Yoon SY, Choi IK, Oh SC, Seo JH, Kim BS, Shin SW, Kim YH, Kim JS. Prevalence and characteristics of anemia in the elderly: cross-sectional study of three urban Korean population samples. Am J Hematol. 2004 Sep; 77(1):26-30. [Pubmed] [Crossref]


Elis A, Ravid M, Manor Y, Bental T, Lishner M. A clinical approach to "idiopathic" normocytic-normochromic anemia. J Am Geriatr Soc. 1996 Jul; 44(7):832-4. [Pubmed] [Crossref]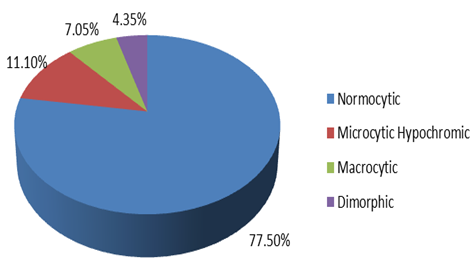 How to Cite
1.
Hilal N, Mushtaq A. Prevalence of anemia in geriatric population of Kashmir: A hospital based study. Annals of Medical Physiology [Internet]. 14Apr.2017 [cited 4Jun.2020];1(1):26-0. Available from: http://amphysiol.com/index.php/amp/article/view/v1i1.262231
Section
Original Research Articles
This work is licensed under a Creative Commons Attribution 4.0 International License.
The authors warrants and represents that the submitted MANUSCRIPT is an original work and has not been published before in any form, and that it does not infringe upon any copyright or other right(s), that it does not contain infringing, libelous, obscene or other unlawful matter, that he/she is the sole and exclusive owner of the rights here-in conveyed to the Publisher, and that he/she has obtained the customary permission from the copyright owner or his legal representative whenever a text/passage from copyrighted material is quoted or a table or illustration from such material is used. The Author(s) will indemnify the Publisher for, and hold the Publisher harmless from any loss, expense or damage occasioned by any claim or suit by a third party for copyright infringement or arising out of any breach of the foregoing warranties as a result of publication of the Article. The Article shall be delivered to the Publisher free of copyright charges. In the event that the Article is not accepted and published by Publisher, this agreement becomes null and void.
Plum X metrics
Article level metrics are shown here