Vitamin D status in medical students and risk factor analysis
Vitamin D status in medical students
Vidya Sunil Joshi

Vydehi Institute of Medical Sciences

Rahul Mandal

Vydehi Institute of Medical Sciences
Keywords:
Hypovitaminosis, Immunoassay, Vitamin D
Abstract
Vitamin D is finding increasing health implications beyond calcium homeostasis. Vitamin D deficiency is prevalent globally including India. Many asymptomatic individuals have hypovitaminosis implicating the need for intervention. The present study aimed at evaluating vitamin D levels among healthy medical students from southern India and its association with well-known risk factors. Hundred apparently healthy medical students between the age group of 18-25 years were recruited based on defined inclusion and exclusion criteria. A questionnaire form with details of sun exposure, tanning, milk intake, general health and drug history were obtained. Vitamin D levels were assessed by chemiluminescent immunoassay (CLIA). Vitamin D values were considered normal for 30-60 ng/ml, deficient for <20 ng/ml and insufficient for levels between 21-29 ng/ml. Majority of the students (89%) had deficient 25-hydroxyvitamin D levels while 8% of the student had insufficient and 3% of the students had sufficient 25-hydroxyvitamin D levels. The mean 25-hydroxyvitamin D level was 14.01±6.20 ng/ml, median level was 12.95 ng/ml and ranged between 5.15 to 43.01 ng/ml. No statistically significant association was noted with sex, BMI, sun exposure, dietary intake or serum calcium levels. To conclude, vitamin D deficiency is highly prevalent in asymptomatic medical students and showed lack of relationship with the well-defined risk factors in literature prompting to look for newer risk factors in this country.
Downloads
Download data is not yet available.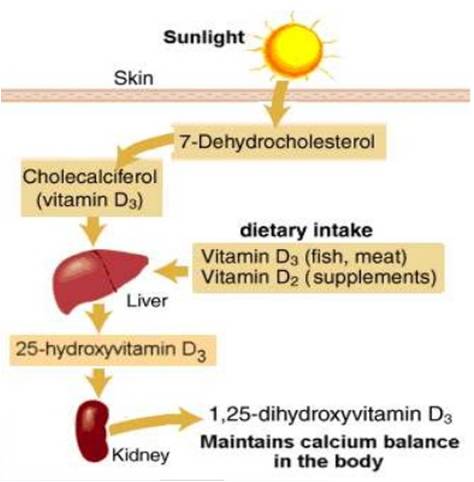 How to Cite
1.
Joshi V, Mandal R. Vitamin D status in medical students and risk factor analysis. Annals of Medical Physiology [Internet]. 31Mar.2018 [cited 14Jul.2020];2(1):11-6. Available from: http://amphysiol.com/index.php/amp/article/view/v2i1.289803
Section
Original Research Articles
This work is licensed under a Creative Commons Attribution 4.0 International License.
The authors warrants and represents that the submitted MANUSCRIPT is an original work and has not been published before in any form, and that it does not infringe upon any copyright or other right(s), that it does not contain infringing, libelous, obscene or other unlawful matter, that he/she is the sole and exclusive owner of the rights here-in conveyed to the Publisher, and that he/she has obtained the customary permission from the copyright owner or his legal representative whenever a text/passage from copyrighted material is quoted or a table or illustration from such material is used. The Author(s) will indemnify the Publisher for, and hold the Publisher harmless from any loss, expense or damage occasioned by any claim or suit by a third party for copyright infringement or arising out of any breach of the foregoing warranties as a result of publication of the Article. The Article shall be delivered to the Publisher free of copyright charges. In the event that the Article is not accepted and published by Publisher, this agreement becomes null and void.
Plum X metrics
Article level metrics are shown here