Central blood pressure parameters in young adults with and without parental history of hypertension
Central BP in young with parental history of HTN
Keywords:
Central aortic pressure, Parental history of hypertension, PeriScope, Augmentation pressure, Augmentation index
Abstract
Hypertension is increasingly being found in children and adolescence. The purpose of this study was to find out differences in the central arterial (aortic) blood pressure parameters in young adults with hypertensive and normotensive parents. 109 healthy volunteers between the ages of 17 and 25 years were enrolled for the study after taking consent. Brachial artery pressures and aortic parameters were recorded using PeriScope™ which determines aortic parameters and functional vascular age non-invasively based on oscillometric method. The results of this study showed no statistically significant difference between offspring of hypertensive parents and offspring of normotensive parents.
Downloads
Download data is not yet available.
References


Din-Dzietham R, Liu Y, Bielo MV, Shamsa F. High blood pressure trends in children and adolescents in national surveys, 1963 to 2002. Circulation. 2007 Sep 25; 116(13):1488-96. [Pubmed] [Crossref]


Othman AS, Othman NI, Rosman A, Nudin SS, Rahman AR. Central and peripheral blood pressure profile of young offspring with hypertensive and normotensive parents. J Hypertens. 2012 Aug; 30(8):1552-5. [Pubmed] [Crossref]


Rajzer MW, Klocek M, Kawecka-Jaszcz K, Czarnecka D, Baran W, Dudek K, Petriczek T. Aortic pulse wave velocity in young normotensives with a family history of hypertension. J Hypertens. 1999 Dec; 17(12 Pt 2):1821-4. [Pubmed]


Naidu MU, Reddy BM, Yashmaina S, Patnaik AN, Rani PU. Validity and reproducibility of arterial pulse wave velocity measurement using new device with oscillometric technique: A pilot study. Biomed Eng Online 2005 Aug 23; 4:49. [Pubmed] [Crossref]


Kucerová J, Filipovský J, Staessen JA, Cwynar M, Wojciechowska W, Stolarz K, Kuznetsova T, Gasowski J, Dolejsová M, Grodzicki T, Kawecka-Jaszcz K, Fagard R. Arterial characteristics in normotensive offspring of parents with or without a history of hypertension. Am J Hypertens. 2006 Mar; 19(3):264-9. [Pubmed] [Crossref]


Mitsumata K, Saitoh S, Ohnishi H, Akasaka H, Miura T. Effects of parental hypertension on longitudinal trends in blood pressure and plasma metabolic profile: mixed-effects model analysis. Hypertension. 2012 Nov; 60(5):1124-30. [Pubmed] [Crossref]


Lascaux-Lefebvre V, Ruidavets J, Arveiler D, Amouyel P, Haas B, Cottel D, Bingham A, Ducimetière P, Ferrières J. Influence of parental history of hypertension on blood pressure. J Hum Hypertens. 1999 Sep; 13(9):631-6. [Pubmed]


Gopinath B, Louie JC, Flood VM, Rochtchina E, Baur LA, Mitchell P. Parental history of hypertension and dietary intakes in early adolescent offspring: a population-based study. J Hum Hypertens 2014 Dec; 28(12):721-5. [Pubmed] [Crossref]


Kalbande S, Anitha T. Monitoring of blood pressure of children of hypertensive parents in their early ages reduces the risk of having cardiovascular diseases in future: a study conducted on adolescents. J Life Sci. 2012 Jul; 4(1):35-8.


Gopinath B, Baur LA, Hardy LL, Wang JJ, Teber E, Wong TY, Mitchell P. Parental history of hypertension is associated with narrower retinal arteriolar caliber in young girls. Hypertension. 2011 Sep; 58(3):425-30. [Pubmed] [Crossref]


Ranasinghe P, Cooray DN, Jayawardena R, Katulanda P. The influence of family history of hypertension on disease prevalence and associated metabolic risk factors among Sri Lankan adults. BMC Public Health. 2015 Jun 20; 15:576. [Pubmed] [Crossref]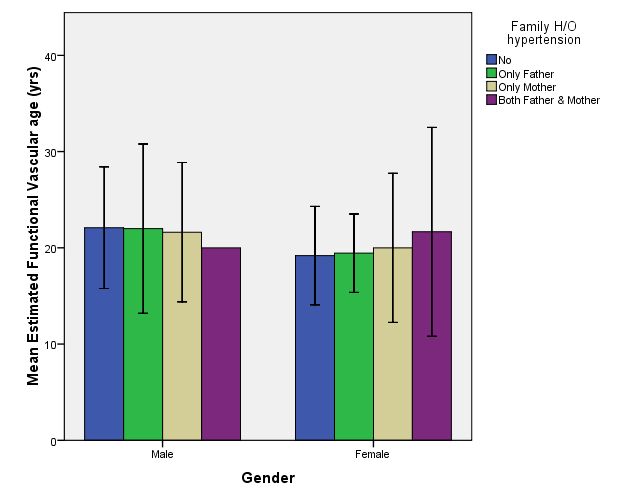 How to Cite
1.
Hazari M, Arifuddin M, Hussain H, Fatima F, Kahkashan N. Central blood pressure parameters in young adults with and without parental history of hypertension. Annals of Medical Physiology [Internet]. 31Mar.2017 [cited 9Aug.2020];1(1):16-1. Available from: http://amphysiol.com/index.php/amp/article/view/v1i1.262334
Section
Original Research Articles
This work is licensed under a Creative Commons Attribution 4.0 International License.
The authors warrants and represents that the submitted MANUSCRIPT is an original work and has not been published before in any form, and that it does not infringe upon any copyright or other right(s), that it does not contain infringing, libelous, obscene or other unlawful matter, that he/she is the sole and exclusive owner of the rights here-in conveyed to the Publisher, and that he/she has obtained the customary permission from the copyright owner or his legal representative whenever a text/passage from copyrighted material is quoted or a table or illustration from such material is used. The Author(s) will indemnify the Publisher for, and hold the Publisher harmless from any loss, expense or damage occasioned by any claim or suit by a third party for copyright infringement or arising out of any breach of the foregoing warranties as a result of publication of the Article. The Article shall be delivered to the Publisher free of copyright charges. In the event that the Article is not accepted and published by Publisher, this agreement becomes null and void.
Plum X metrics
Article level metrics are shown here